Natural Fruits Vs. Andy Hall
Andy Hall, a British activist, is on trial this week in Bangkok, Thailand for two charges of defamation as well as computer crimes. According to BBC, Hall co-authored a report that made several allegations regarding poor working conditions for the Thai fruit company, Natural Fruits. According to a court summary provided by the Andy Hall website, the computer crime charges reference the dissemination of his research findings and report via websites.  He may face prison time as well as up to $10million in fines.
A Foreign Land, Foreign Laws
According to the Committee to Protect Journalists, several other international journalists have recently faced defamation and computer crime charges in Thailand, as well. There are over 100 countries in the world that have criminal defamation laws, reports The International Journal of Communications Law & Policy.
With computer and Internet accessibility, travelers have the means to publish material through a variety of media on social networks and blogs. This has both opened up the market for more people to publish content, and has also made those people vulnerable. According to Digital Insights, there are currently over 6.7 blogs online, and 77% of online users read blogs. No current statistics have tracked what percentage of these is travel blogs.
For the travel enthusiast
Michael Hodson, a trained attorney, has been travel blogging for seven years. His site, GoSeeWrite, has received several awards and mentions: it was included in the top 100 travel photographers, as well as the 2014 top 25 adventure bloggers. Hodson acknowledges that travel blogs need to be aware of legal issues, particularly defamation and copyright.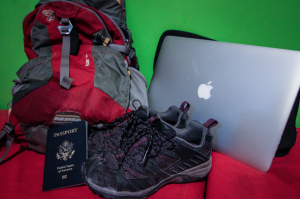 "The only real concern that I think travel bloggers need to worry about are the insane laws in a few countries that could subject someone to criminal prosecution, such as saying anything that might be considered negative about the King of Thailand," Hodson explains. International law sites such as Kelly Warner can be used to identifying other countries' laws regarding libel and defamation in advance.
The Reporter's Committee for the Freedom of the Press puts it this way: "In addition to knowing what they can be sued for, web-based authors should also be aware of where they can be sued. The accessibility of online publications from virtually anywhere worldwide has presented jurisdictional issues not necessarily seen in cases involving traditional media, namely the question of whether digital journalists can be sued in courts hundreds or thousands of miles away from where they live and work."
"I think basic common sense will be your best guide 99.8% of the time, without worrying about legal technicalities," Hodson explains. "Only publish things on your site that you have a sincere and honest belief are true, or if it is an opinion piece, that you have justifiable belief in the basis for that opinion. And on the rare cases where someone does contact you and threaten a lawsuit or other action — immediately contact an attorney to get legal advice specific to your situation."
More Information
Defamation: Staying out of Trouble When Writing Non-Fiction
Getting Slapped: Defamation and your Blog
Defamation suits use to bludgeon Southeast Asia bloggers and independent press
Online defamation: what you need to know
Social Media Statistics Infographic