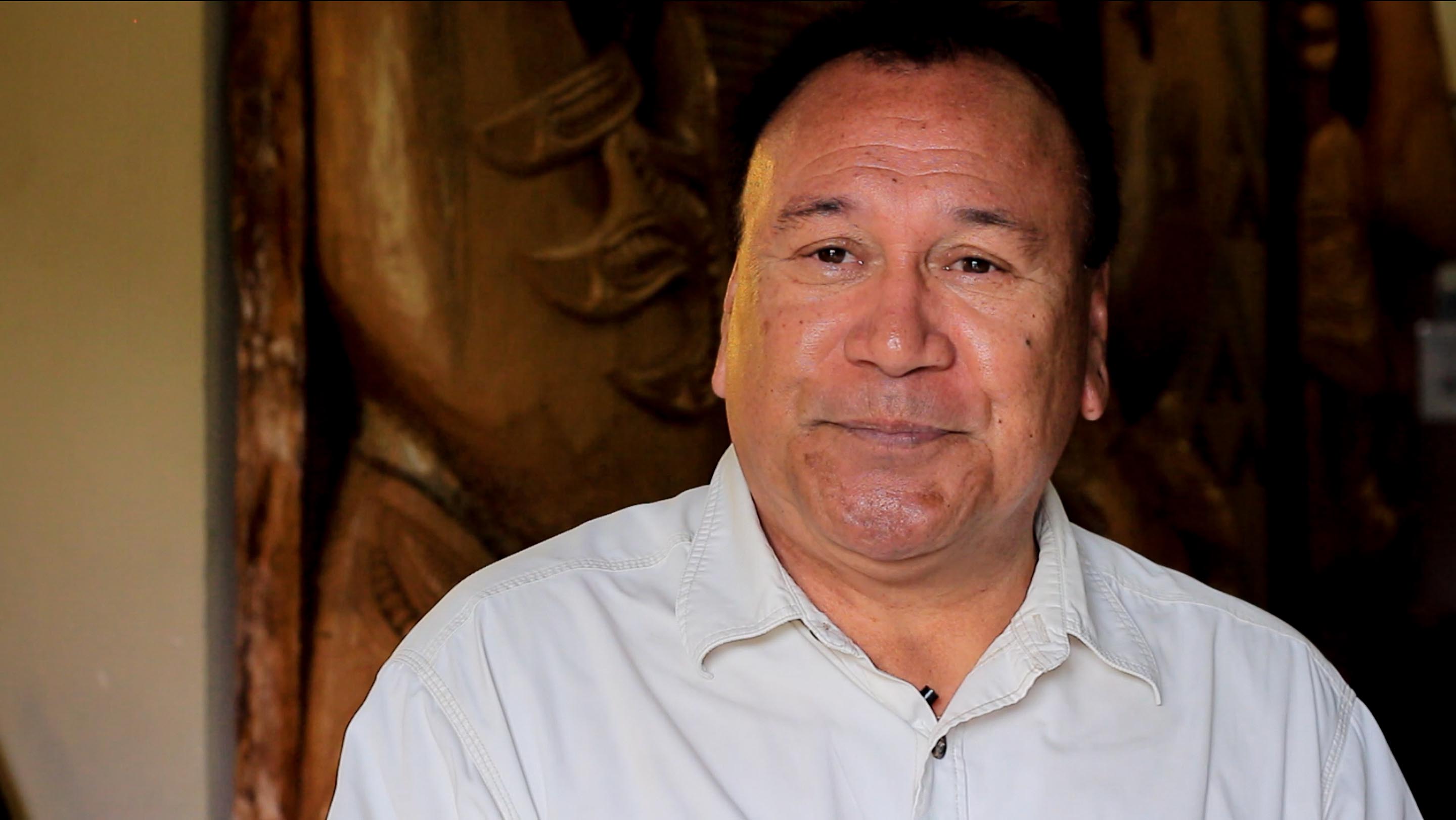 It is yet another Friday afternoon at Auckland University of Technology. Like last week, the computer lab is filled with creative energy and collaboration as small groups of students discuss Maori-themed story concept for their upcoming film productions, and browse social media sites such as YouTube for inspiration.
Robert Pouwhare, co-instructor of the Maori Media class, circulates the room, checking in with each small group. Their story ideas are diverse, but never fail to capture his interest. Though he lets his enthusiasm show, he is careful to not impose his ideas and opinions on the students. After all, he explains, it's their projects, not his.
Pouwhare wears many hats in the fields of education and media. Not only is he a lecturer, but he is also the program leader for the Maori Language and the undergraduate teaching program at AUT, as well as the director of Tangata Whenua HD, a digital media company specializing in video content, websites, app development, and social media.
Through Pouwhare's role as a lecturer of Maori Media at AUT, he encourages students to experiment with emerging, digital technologies. Pouwhare himself is no stranger to the media scene in New Zealand, and has done his fare share of adapting to new, emerging technologies in order to further the cause of Maori language and culture wellbeing.
A Journey Towards Language, Culture, and Media
Pouwhare was attending Victoria University in Wellington, New Zealand when Maori activism started taking off in the 1970s. He joined the Te Reo Maori Society, an organization that played an instrumental role in petitioning Maori language recognition by the government, and access to radio and television programming and stations in the Maori language.
For him, the series of events since the seventies are all interwoven and interdependent upon one another. He recalls the impacts of the National Survey in 1978 that unveiled only 70,000 fluent Maori speakers, only 20% of the Maori population.
"Our people started to realize that our language was hugely imperiled, and that we were about to lose our language. It was on the brink of extinction," Pouwhare recalls.
The Te Reo Maori Society first turned their attention to the education system, leading to the successful implementation of various Maori language education programs for early childhood up through college.
"We realized in the 70s that simply putting Maori language in the schools was just not enough," Pouwhare explains. "We realized that television was extremely powerful. Television was pervasive, and it was persuasive. We could get our stories to our people, or allow our people to tell their own stories."
And so the struggle for Maori airtime began. Pouwhare experienced this, once more, from the front row, as he was in the first cohort of Maori to train as television producers/directors, and was assigned to the first Maori television program to air on television. Today, there are two Maori channels in New Zealand.
"This technology is important for the survival of our language, firstly. Secondly, it provides the space to allow us to inform, educate, and entertain our people in our own way, in our own language. And also the ability to reach back into the past, and bring the stories from the past and re-vivify them and re-present them to our people so our people continue to be connected to the land and to the country in which we live."
Pouwhare is grateful that Maori programming is now readily available, and feels that it plays a large role in a continued struggle. However, Pouwhare is nervous that the balance between entertainment and knowledge may be tipping.
"The role of media is to not just entertain, but to inform and educate. And at the moment, I really believe, at no other time in our history, do we need better decisions, better quality information. We are now moving into another phase in the history of this country."
Maori tribes throughout New Zealand are currently in the process of reclaiming their ancestral lands.
"Media been extremely, extremely useful at helping to reinforce our identity, to reinforce our cultural knowledge, and to understand our history, more than anything. And to understand exactly what was lost, and what our battle continues to be. And the battle is to reclaim our lost land, our stolen property, and to reinforce our identity. And the media can help to do that."
According to Pouwhare, language, culture, media, laws, and rights are all very closely interwoven. Pouwhare's personal journey within the world of media is only one small part of the much bigger picture. The following timeline provides a visual of the historic events, policies, and advancements that have contributed to Maori language, culture, and media as it is today.
Declaration of Independence
The Treaty of Waitangi
This is New Zealand's founding document, written in both English and Maori, and signed between the British Crown and the Maori people on February 6, 1840.
Maori is the Dominant Language in New Zealand
Maori remains the dominant language in New Zealand. Most business and education conducted with and by Europeans was done so in Maori.
Population Shift
The Pakeha (white outsider) population exceeds the Maori population.
Maori Population at a Low
The 1896 census reports fewer than 50,000 Maori people in New Zealand.
Maori Population Increases
The 1951 Census reports over 130,000 Maori in New Zealand
First Maori News Program on Television
According to Pouwhare, this program was allotted two minutes of time, with no original footage or programming. The two minute segment provided a translation of the mainstream, English news programming.
First Maori Radio Station
Te Ūpoko o Te Ika was the first Maori radio station, aired from Wellington.
First Maori Television Channel on Air
The Maori television channel began airing on March 28, 2004.
22 Iwi Radio Stations
The number of Iwi (tribal) radio stations in New Zealand is 22.
Maori TV Celebrates its 10th Anniversary
We celebrate 10 years on-air today! Ngā mihi nui ki a tātou katoa. Whakanuia!

— Māori Television (@maoritv) March 27, 2014